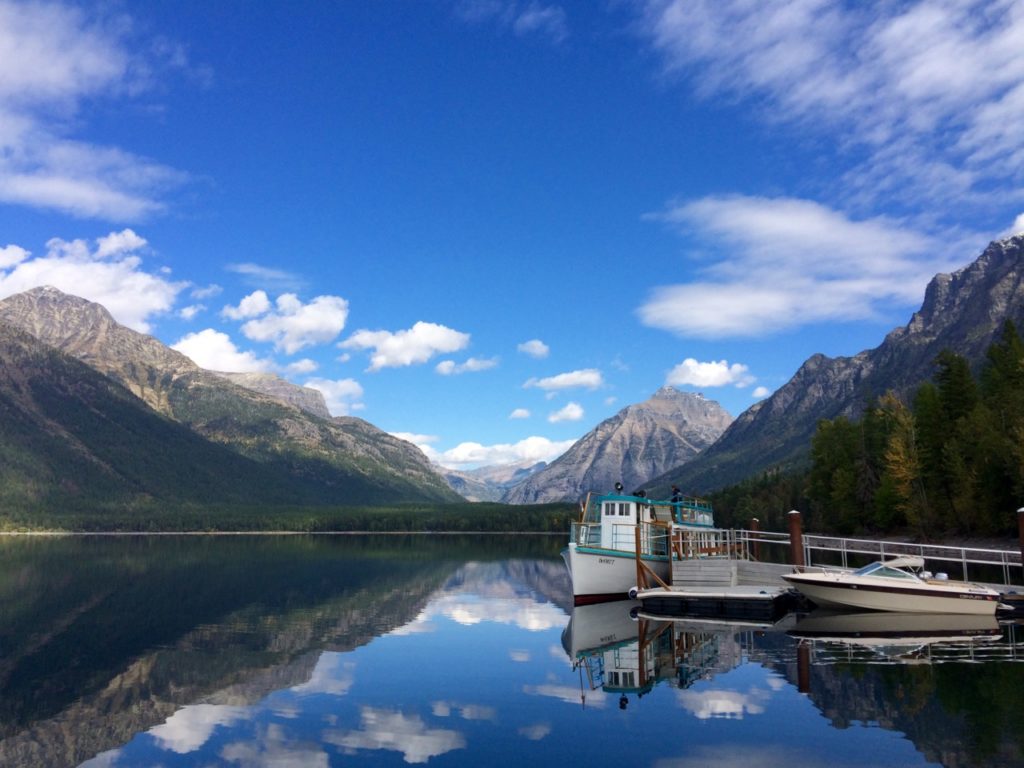 Steve here…
Let's see, where were we? Oh yes, Glacier National Park. It seems we packed an enormous number of experiences into our three months at Glacier.
We had three — if not all four — seasons there. When we first arrived it was early Spring, the central road over Logan pass had not yet opened, and waterfalls tumbled down the sides of the mountains from the melting snowfields. Within a few weeks we were experiencing mid-summer 100-degree days, then weeks of smoke-filled skies, dry grass, and wildfire danger. And by the time we left in early September snow was falling again on the mountains and the road over the pass had already been closed a couple times due to winter conditions.
Lisa enjoyed her seasonal position as a Red Bus Driver, although the hours were long and intense. She regularly put in 12 hour days in addition to the time spent commuting into the park from the employee campground where we stayed in the little town of Hungry Horse. Unfortunately her schedule was somewhat unpredictable so we didn't always manage to coordinate our weekend days off. I spent most of my working days in the kitchen/lounge room at the campground. There was Wi-Fi provided as well as power outlets, chairs, and tables so it was a convenient workspace. Some times I would work from our tent or under an awning at the back of the campground with an extension cord strung out for my laptop, using my phone as a network hotspot.
On days we had off together we got in hikes in the park, trips to Kalispell, Whitefish, and a Blackfeet Indian celebration in Browning. A couple times when the smoke and heat got too intense we drove up to Canada for a change. We drove up to Fernie once and visited Waterton park (the Canadian side of the Waterton-Glacier International Peace Park) a couple times. We saw elk, moose, black bears, grizzly bears, and endless ground squirrels.
Most of the other employees at the campground were retirees with RVs or camper trailers — many of them were other Red Bus drivers. For a few weeks we hosted a temporary tent city of "refugees" — employees who had been evacuated from the east side of the park due to one of the fires. These were mainly young foreign students with little or no experience in America and none with camping. We wondered what their memories of this crazy smoky summer would be!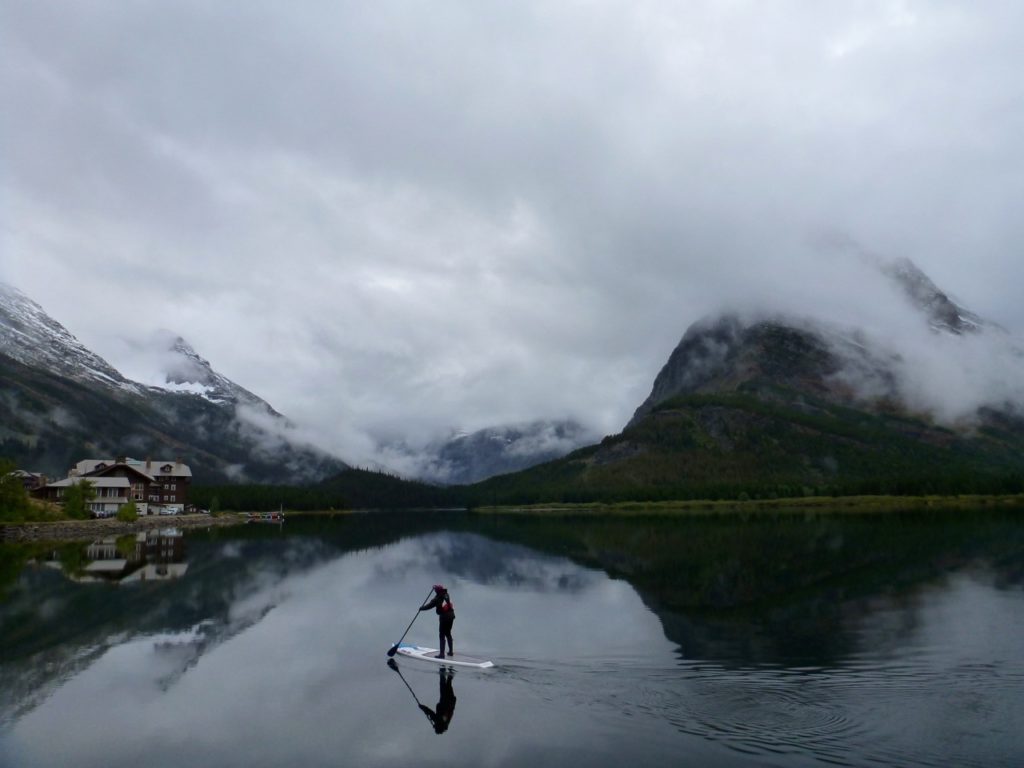 We were quite taken with the beauty of this part of the country. And enamored with the stories of people roughing it and building their lives out on the edge of the wilderness. We gave serious consideration to buying a house in Columbia Falls, thinking to turn part of it into a bike-and-breakfast and coffee shop and theater space. But ultimately decided that perhaps we missed the cultural access that a bigger city provides and since we hadn't experienced winter there, we thought to forego the commitment for the time being.
By mid-September the season was wrapping up and we hit the road again on our tour of the country. Lisa's nephew had a wedding reception coming up in Ohio, and then we thought to head south before the cold weather. Our route took us through South Dakota where we spent a week in the Black Hills, visiting Mount Rushmore, of course, and hitting a delightfully kitschy petrified gardens on our way east. Our next week was spent near Chicago with the opportunity to visit my sister and her family for a while. And then it was off again to Ohio where we connected with Lisa's family and several of her friends.
After another short foray into Canada to see Niagara Falls we turned Bernard's wheels south toward warmer weather. (Yes, the Honda is named Bernard.) The hub for our adventures for the next month or two would be Asheville, North Carolina. We'd both heard good things about Asheville over the years, but neither of us knew much about it. The city turned out to be a lovely little cultural hub nestled in the Blue Ridge Mountains.
Our first experience of Asheville was a little less than ideal, however, since the only campground nearby had no reasonable Wi-Fi or power outlets and almost no cell phone service penetrated into the narrow river valley where we camped. Additionally it was getting cold. And we had been on the move or working for months now. We were starting to feel a little burned out. It was time to slow down.
Lisa found a great little cabin available for a monthly rental just 15 minutes north of the city and we signed up for the month of November. But first I took some vacation time and we spent a week on the outer banks, not worrying about arranging our days around my work schedule for the first time in months. I tried oysters for the first time (the jury's still out), we waded in the ocean, took ferries between islands, visited pirate museums before looping back around to Asheville and settling in for the month.
Our month in a cabin left us feeling rejuvenated and reconnected. I had a chance to visit an old friend with whom I'd grown up in Nigeria; Lisa was able to get a visit in with her friends in California. And we discovered the world of competitive Scrabble clubs — by stumbling into a friendly group of Scrabble players who turned out to include a couple world champions.
After Thanksgiving we started traveling again, heading first to Charleston where, in addition to touring the quaint old town and enjoying boiled peanuts, we camped at a state park surrounded by a famous holiday Festival of Lights. Touring a plantation and seeing alligators in the wild rounded out our week before we headed on to Savannah, Georgia, where the highlight of the week was a bike tour of the historic town.
Lisa applied for and got another seasonal driving position for the winter, this time in Salt Lake City, Utah. So  we started heading west again. A couple long days of driving brought us to Pensacola Beach, Florida, where we watched a Santa parade wind through the beach town and I got some work done with my heals up in a hammock overlooking the gulf. Our next week was in New Orleans, camped at Bernard State Park south of the city which worked perfectly for our needs. We even experienced armadillos scurrying by as we ate dinner a couple evenings. Our travel time ran out here and Lisa flew on to Salt Lake City to start her seasonal job while I drove through Texas — spending a week working out of my dad's house — and then on through New Mexico and Utah before arriving in Salt Lake in time for Christmas.
Our whirlwind Fall tour of the country had been a success.