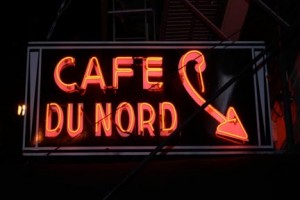 Café Du Nord, The Elbo Room, and The Bottom of the Hill are three unique live original music venues that you need to experience in San Francisco.  If you live in SF, and enjoy live music, undoubtedly you will be back at these places again and again.  Each venue has history, character, and typically offers a rockin good time.   These aren't places groups typically play their first or twenty first gig, at least not on a weekend night.  These venues tend to feature acts that are "up and coming" –and have at least a small following.  Local, national, and international acts bless these inspired stages.  Two hundred people will pack any of these places.
The Café Du Nord is a unique live music venue.  Affectionately dubbed "the Nord" by locals, you can risk a drop-in visit here, as the price point for most shows (avg $10-12) makes walking in and taking a chance a reasonable thing to do.  Café Du Nord oozes character.  For instance, Guy Carson (promoter and music venue owner for over 30 years), points out the bell that still exists from the Speak Easy that once occupied the space.  The place has a cool underground vibe to it.  Low lights, low ceiling, raised stage (but not too high) make for an intimate audience experience.   Good food and cheap drinks to boot.  No BS drink minimums here!
Ah The Elbo Room…I loved this place from the start.  You get a two for one experience at the Elbo room.  Downstairs you enter the dimly red lit curvy bar area complete with a photo booth and backroom full of pinball machines.  Snag a table around the perimeter to soak in the neighborhood bar scene, or mosey upstairs to the party! The bar is in the back behind the big open space in front of a large raised stage –great sound and nothing to obstruct your viewing pleasure.   I've only actually seen Afrolicious perform here, but I've seen them many times now because the experience is always full-on fun! Every Thursday the place is hopping with dancing sorts breaking it down to this beat-olicious band.  Beware, the drinks are ridiculously strong.  Cash only.
The Bottom of the Hill is "the place" to book a gig if you are a rising star.   You walk in and immediately feel that the place is "not corporate" –keeping it real.  It has a funky, fun, underground feel to it.  Wacky art and other interesting items adorn the walls.  An odd tented back seating area and patio provides a couple optional areas to escape and chat (or smoke) away from the music.  Now this a place that you need to check the calendar before walking in as you will find all types of live original music being played here.  Tickets range from ($10-20)…and it may or may not be your style of music.  You don't just hangout at the Bottom of the Hill.  You come to see a show!