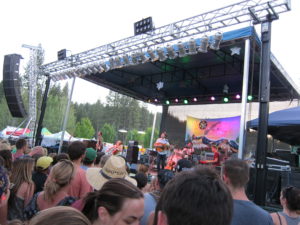 Not all music festivals are created equal!  The High Sierra Music Festival (HSMF) located in the lovely Sierra mountain area of Quincy, CA was all that I could ask for in a musical festival.  After 24 years, these folks have figured out a few things.  For me, the HSMF was more than just seeing great acts.  Here's why I would recommend the experience:
Great Size & Great Access!  Three stages offered up great national and international acts. I was able to get up close and personal to all stages.  I am vertically challenged and I love to dance, so for me getting up front and being able to dance about is important.  The Grandstand stage was a bit more challenging, but still even coming late to shows, I could at least get close enough to see the performers.
Relaxed Feel!  The security was not concerned with whether you were bringing in beverages.  Coolers were allowed in.  I was able to park my car within easy walking distance to the campground even arriving a day late.
Bathroom Ease! Even at its busiest times, I never had to wait more than a few minutes to use a port-a-pot.  Lines were a bit longer for the flush toilets.
Lots of Shade!  Wow…coverage over at least some portion of the audience at all stages.  Then there were the breakout stage areas inside barns where specialty musicians hosted to jams and other breakout sessions.  You could easily dip into these and cool down.
Cool Campers! Just wandering around the festival was a trip.  Lots of folks came as groups and took it upon themselves to theme their camps.  Many created interactive experiences -from jams, to discos, to games. Attendees were dressed up and creating fun everywhere!
Unique, Fun Festival Elements!  Each day a parade happened early evening.   Music, costumes, performers, stilt walkers, etc…banged through the festival and everyone was encouraged to join the fun.  Late night (early morning) shows, discos, etc. raged on and on!
Family Friendly!  I've never seen so many kids at a music festival.  Wagons and bicycles were decorated and kids rolled around enjoying the festivities.  It totally worked.  The fairgrounds are located next to a community park, so for $ 5, you could get a daily pass to take dip in a big pool, and enjoy a proper shower afterwards.
Great Food & Wears!  All sorts of great food and drink was available inside the festival grounds.  Equally impressive were the unique selection of clothes, art, and other various souvenirs for sale.
Great Diverse Musical Acts!   Everything from funk, to electro-pop, to bluegrass, to heavy metal could be found gracing the stages all day and all night!  Personally, caught some great shows by g Deer Tick, Rubblebuckets, The Lumineers, and Delta Spirit.
Regarding logistics…While the festival began on Thursday, I didn't roll in until Friday for my first time at HSMF.  I'm told there was some waiting if you arrived on Thursday to secure a campsite.  However, I hit no traffic and easily found my way to will call, picked up my wristband, and headed over to the Shady Grove camping area.  Camping is brilliantly located directly across from the main entrance to the festival that takes place throughout the Quincy Fairgrounds.  I had to endure a whole five-minute walk from my tent to the line-free entrance.  Premium RV camping is available inside the fairgrounds, but getting this takes some advanced planning.  If you are going as group,  you definitely should do some advanced planning, and arrive early.  Otherwise, plucking your tent simply somewhere wasn't a problem.
 I might add that the drive from San Francisco to the festival was one of the prettiest drives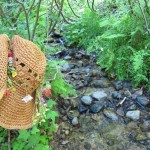 I've taken in a long time.  I opted to do some hiking around Buck's Lake on Saturday before joining in for more music.  This proved to be a great decision.  The whole area around the festival is a natural outdoor playground.   See you next year at HSMF…I'll be there for the full 4 days!