Another Initiative from Quest for Zest…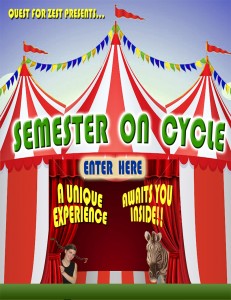 Pilot Program (Phase I) – Complete!
On March 2, 2014, I married Steel Spokes (my beloved bicycle of 15 years).  The next day, we departed from Northern California on a 9 month "bicycling honeymoon" where I attempted to accomplish a variety of ambitious tasks from the road that I hope will lead to even bigger dreams!
By moving my life to my beloved bicycle, I lowered my cost of living while I completed my writing for my Ph.D. (I completed the degree in November 2014!! Yeehaa!!).  While on the road, I experimented with various  collaborative ideas including creating art, playing music, making video, and engaging in service projects.  Steel and I traveled throughout California and then spent 6 months cycling in Europe where we tested  "Semester on Cycle" concepts, worked on developing the program model, and raised awareness about the program.
We shared our tales from the road on the Zesty Blog, through videos on YouTube and through posts on the Facebook.
Phase II – Program Launch
Coming Soon!
Sign up for the "Zesty Email" blast (at top of the page) to keep up to date on this and other zesty happenings!