QUEENIE TT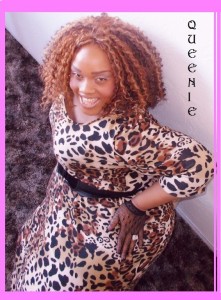 ABOUT QUEENIE TT
In a profoundly good and inspirational way Queenie TT is deliciously crazy and she doesn't care who knows it.  Her brand of healthy insanity is infectious enough to build a comedy empire.  Known for her signature naughty-but-nice, super-sassy, high-energy comedic style, Queenie regularly performs at Cobb's Comedy Club, The San Jose Improv, Tommy T's, The Purple Onion, and Flapper's Comedy Club and has opened for national and local headliners, Luenell, Cocoa Brown, Mike E. Winfield, Shang, Rodney Perry, and Big Worm Romero. 
INTERESTING OTHER BITS ABOUT QUEENIE TT
Queenie is also the author of Praise Be to the Plus-Sized Sister available at Amazon.com, host of the popular web series, The Crazy Fabulous Show; a comedic actor, plus-model, motivational speaker, body esteem educator, and she produces Queenie TT & Friends, Queenie TT's Comedy Gumbo, Queenie TT's Comedy Love Shack, and The Curves N Cupcakes Comedy Tour. Queenie started comedy weighing well over 400 pounds; seated with a cane, and sick with Acute Hypothyroidism Stage II Lymphedema. Today, not only is she exactly half the person she used to be, she is one of the hottest female comics in the underground comedy community of Sacramento, San Francisco, and Los Angeles.  Her positive messages of female empowerment, positive body esteem, and self-love proves that Queenie TT is more than just a comedian.  She's America's Favorite Sister Girl.
CHECK OUT & CONTACT QUEEENIE TT HERE:
 http://www.pssistermovement.com/
Twitter: https://twitter.com/queeniettcomedy
Queenie TT's Comedy Love Shack: http://qttcomedyloveshack.eventbrite.com/