Steve here…
No doubt our biggest challenge working remote is keeping all of our technology charged, especially when making our home at campgrounds. To that end, solar power has been a great asset to helping us stay charged. Today I'll share with you our experiences with portable solar technology: what we have, how we use it, and what else I think we need to ultimately realize our goal of getting off the grid.
We've camped in a wide variety of different places over the past year. Some with electric power outlets, some without. And even the ones with power may not have power outlets near our campsite or near a convenient and comfortable place to work. I need to be online at work roughly eight hours a day five days a week. Sometimes we're in places with access to Wi-Fi, but often I need to tether my laptop over my phone to get a network connection. Lisa doesn't have the same rigid time commitments to work with, but she also spends a lot of time writing on her laptop, filming or editing on the iPad and communicating on her phone. That gives us five critical pieces of equipment to keep powered up.
To do this we turned to a portable solar panel and external batteries from Voltaic Systems. We picked up two of their V72 laptop batteries and a 17 watt solar panel. The batteries are about the size and shape of an e-reader or a paperback book.  The cases are brushed aluminum and seem sturdy — they've survived a fair bit of abuse without any issues so far. Each one is advertised to hold 20,000 mAh / 72 watt hours of power. That's probably meaningless to most of us, but for comparison, the battery in my laptop is advertised at 71 watt hours. So think of them each as another laptop battery.
The batteries come with a variety of connection options. They can be charged from Voltaic solar panels, car cigarette lighters, or AC adaptors we plug into the wall. The battery has two physical output plugs: a USB socket and a DC socket.  So far we've used the USB connection to charge our phones and iPad and the DC socket set to 19 volts to charge our laptops.  The DC socket can be set to 12, 16, or 19 volts and Voltaic includes a variety of cables to connect to most standard devices — plus they sell a wide variety of other specialty adapter cables. The battery didn't come with the cables for a Mac laptop. For that, we needed to buy the extra "Magsafe" adaptors.
In my normal work day, my Mac laptop runs for about four hours on a full charge.  Each fully charged Voltaic battery can recharge the laptop once.  So occasionally I can work a full day with a fully charged laptop and just one spare battery.  Usually the laptop uses a little more than that however. Keeping the screen bright for daytime use or attending video meetings both use more power so I'll then need more than one full spare battery to get me through the day.  And I'll need to keep the phone charged as well if I'm tethering through it to connect to the internet.  So often I'll juggle batteries — using one to charge our laptops and phones while the other is getting recharged itself.  And that's just my work day use.
The fastest way to recharge a battery is to plug it into the wall with an AC adaptor.  Voltaic says it will take 6.5 hours to get a full charge.  The AC adaptor is convenient when there's a power outlet somewhere in the area — or if we work at a coffee shop and want to charge up for later.  The other alternative is our solar panel.  With the panel in full sun my experience is that it will charge the V72 battery to a useful level in maybe five or six hours.  Not as fast as the AC outlet, but very convenient for working on the laptop from a campsite.  You can't just plug the portable solar panel into a device (nor would you want to as you'd likely be toast by the time your computer charged).  The solar panel plugs into the battery.  This is why it is important to have at least two batteries so one can be charging in the sun while the other is charging your device(s).
The solar panel is about the size of two letter-sized pages. It's built on a lightweight aluminum base and coated in clear plastic. It's very sturdy, and it seems to hold up well to dirt, rain and being tossed around in our car.  We intend to strap a panel to the top of each of our rear bike racks on our next bike touring adventure.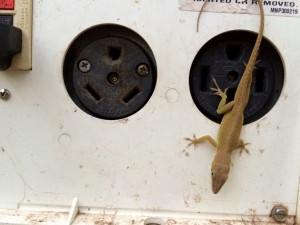 What will we do differently in the future? Two batteries and one panel is not enough for both of us to spend a day working on our laptops.  We'll probably pick up another same sized solar panel and two more of the same batteries so we can both stay charged without power outlets.
We also have an awesome inflatable Luci Lux solar lantern by Mpowerd that we bought at REI. It charges up during the day and puts out enough light to play games, cook, or read by all night. I definitely recommend the frosted one for the diffused light. It will be interesting to see if we can really get off the grid on our upcoming adventure.
The equipment:
V72 battery
17 watt solar panel
Magsafe adapter for older Macs
Magsafe2 adapter for newer Macs