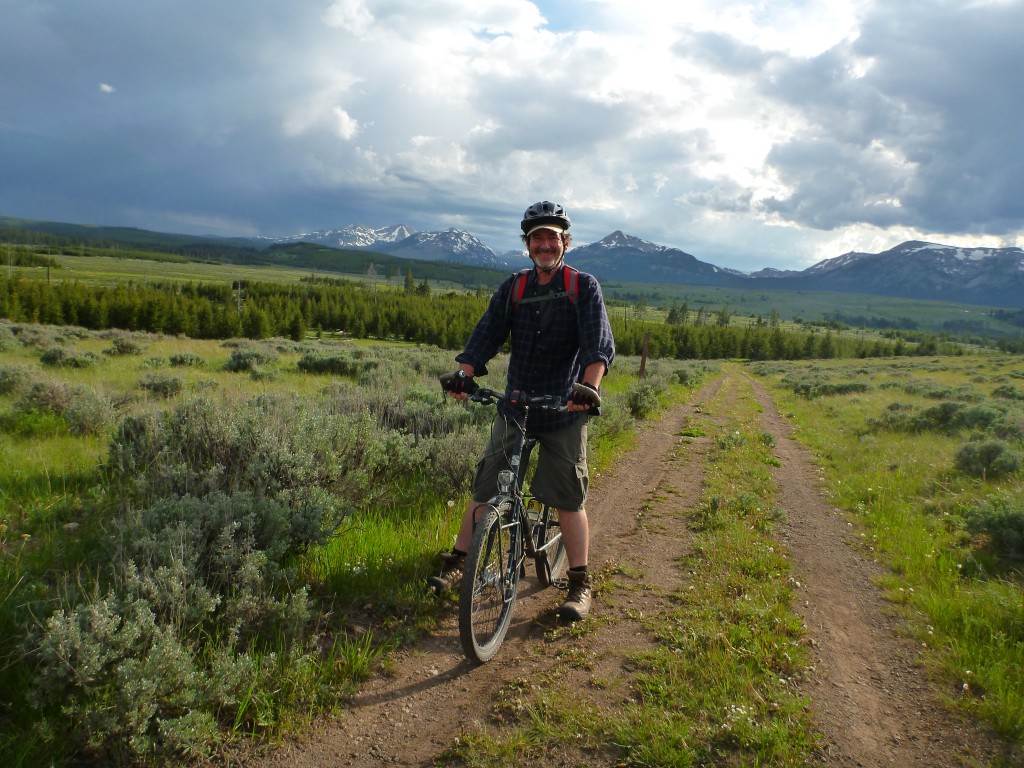 Lisa here…
So I had intended to blog about the Stop Bicycle Theft Dialog that happened…and then, ironically Steve's touring bike got ripped off (behind our home, under a stairwell and locked) and well…WE ARE FRUSTRATED!!  For Steve, that's the loss of a fine bicycle that has taken him on adventures throughout the world including the one in which we met.  It really is a stinkin shame. Add to the distress, now having to figure if we can afford to replace two bicycles hence thwarting our up coming experiment of living and working remote from our bicycles.
As our motivation builds to be part of stopping bicycle theft efforts, here's a few notable things we learned at the Stop Bicycle Theft community dialog.
Prevention & Education.  Sergeant Webb, newly in charge of theft crimes in Salt Lake City strongly emphasized education about prevention.   He explained that the patrol force in SLC is at about 30% of the department compared with 50-60% in most major cities including Salt Lake five years ago.  What this means practically Webb said is that there are not officers for proactive approaches to crime in SLC.  Even if a crime is in progress, there's a good shot an officer may not show in a timely fashion.  So until that changes, and he believes that with their new interim police chief it is changing, "citizens must take care to protect themselves."  Here's a link to a great post about keeping your bike secure: http://www.cyclingutah.com/bike-theft/bike-theft-prevention/ .  I might add that Sergeant Webb said that about 1000 bicycle were reported stolen last year in SLC.  Wow!  I bet the number is more than double that considering people who don't bother to make a report.  
Pawn Shop & Police Recovery.  I believe this is the missing education link.  I don't think most people know WHY they should record their serial numbers, take photos, and record a detailed description of their bikes.  Every new item that comes into a pawn shop is recorded and the information sent daily to the police department via an online pawn registry, and then they must wait two weeks before selling it.  When you file a police report and know your serial number, the police can check for your stolen item against those in the pawn registry.  As it stands, I was told that the police really only have the man power to check for serial number not property descriptions, and certainly not time and again.
Even with that, we learned that other problems exist.  For instance, not all bicycles have clearly imprinted serial numbers and some bicycle manufactures, like Huffy, do not give bikes individual serial numbers, rather they have batched numbers.  Further, Detective Webb explained that you cannot recover your item from the police unless you have a way to identify it as yours.  So unless, you can prove your blue Giant bicycle is yours, you are out of luck.  So again, until said problems are fixed…prevention is the way to go!!
Licensing and Registering.   In SLC lthe bicycle licensing process is wrought with problems – things like it takes a long time to get your info into the system and different systems exist between city and county that don't work together.  Bottom line, until it's fixed (don't hold your breath), the best thing to do is take a few minutes and register it on BikeIndex.org.  This is a must especially if your bike has been stolen as it is a national registry.  Dave Iltis, Editor of Cycling Utah, said that in Washington over a 1000 bicycles have been recovered in the past 10 year.  Utah is new to using it, but here's hoping it will make an impact.
National Crime Problem.  What about the problem of organized high-end bicycle theft —  where bikes are stolen in one city but sold in another? More reason for a national approach to this problem.  Steve floated the idea I mentioned in a previous blog posting of creating a national database that takes the serial numbers and property descriptions entered each night by pawn shops of new items, and allows victims of theft to search for their own stuff (say after one has filed a police report).  Sergeant Webb said the info is already in the NCIC (National Crime Informational Center) FBI database, but it would likely take federal congressional action to allow that to happen.  Further, there is the hurdle of getting past the pawn lobby, which Dave noted is very strong and no doubt would oppose such an initiative.  I can't help but think that if that's what is needed just because it might take some effort doesn't mean we shouldn't try, eh?  I'm thinking I'd like our local reps to weigh in on the subject.
Recovery from Pawn Shop.  Did you know that even if your bicycle ends up at a pawn shop, you will have to pay them what they paid for the bike to get it back?  Sergeant Webb mentioned that there is a bill  being introduced that in part would make it so victims of theft do not have to pay pawn shops to recover their stolen items.  How it works now is that you pay the pawnshop the amount they paid for the item even if it's stolen.  Here's some more info about that bill and how to contact your rep about it: Utah Bike Theft Victims May Get Some Relief with Senate Bill 157.
Who's Doing What?  So if educating people about how big of a problem bicycle theft is becoming and that you need to protect yourself and record your property so you have any chance of getting it back…well, who's doing this?  Nobody at the dialog knew of any ongoing or upcoming community efforts aimed specifically at education.  However, Sharah, Executive Director of the Bicycle Collective, said that they educate their clients.  "With any bicycle that's built or refurbished at the Collective, it gets registered before it leaves," she said.  I found that super cool, especially considering how many of their clients are kids and hopefully will have a long illustrious future with bikes.  Another person at the dialog mentioned that many of the bike shops encourage people to do it, but also added that most are small businesses and are busy.  Detective Webb said that the police department does bicycle rodeos from time to time to educate kids, but did not know of anything specifically coming up.  He suggested contacting one's local rep about it though.  Prior to the dialog, I got an email from Becka Rolfe, Bicycle/Pedestrian Coordinator for the Transportation Department of SLC, who said that in part they do "bicycle education", but unfortunately no one from the department or Mayor's office came to the dialog so I do not know what that means.  I will do a follow up to see if I can get clarification as to their role in the community and the resources available.

Neighborhood Watch.  Dave Iltis brought up something I had never heard of called Next-door.com.   It's a free website and App you can join in your neighborhood. Your neighbors share information on issues, crimes, and other things going on in your neighborhood.  Dave mentioned that it would be helpful if the police weighed in too so as to share info.  Sergeant Webb said he would check it out and mentioned that he is trying to get approval for a website that the community could access too that would have "heat maps" to show problemed areas in the city, etc.  They sound like similar concepts.  I sure like the idea of community members being on the watch and sharing info.  We have now joined this online community.  It's cool.  I'd encourage you to join in your neighborhood.
Drugs and the Market for Bikes.  Of course if there was not a market for stolen bikes, even cheap ones like mine, we would not have this problem, right?  But good luck, on curbing drug problems…that's a whole other complicated issue.  I did pose to the group my idea of offering a bigger incentive to turn in bicycle thieves than the 20 bucks commanded on the street.  Jared, who works with drug addicts, thought there was merit to the idea.  He likened it the success of programs that paid to turn in guns.  Of course, we'd need to private funders to support such a program but who knows maybe there's some folks with money who have had their bikes stolen and see the value in stopping this issue.
Apathy.  Anthony, bicycle mechanic at the Bicycle Collective, brought up the issue of apathy around the issue.  He and another fellow in attendance, Tim, both mentioned a video that went viral that depicted a ridiculous bicycle theft incident where no one did anything about it.  I don't know the answer to that except that I know once one's bicycle gets stolen one becomes much less apathetic about the issue!  I think we should add ignorance to the apathy issue.  I don't think most people realize what a big and growing problem bicycle theft is.  Like many things in life…until it personally affects you, it's often off the radar.
Why This is Important.  Primarily because we love biking and want efforts to support and encourage its continued growth in our communities.  It's hard to encourage people to commute on their bikes if they get ripped off.  But this issue impacts a variety of other important matters like tourism, property values, safety, and air quality.  Bikes help in the inversion smog problem.  A lot of great effort and money have been spent on making SLC bike friendly.  Bicycle theft is definitely one more piece of that effort that needs attention.
I will keep you posted on next steps.  We have a little follow up to do and time to meet with our local elected officials.