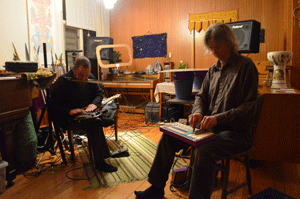 Gotta love the live music house party scene in San Francisco! Sometimes you get lucky and happen upon something really, really cool.  This was it –an evening of inspired tea and music emanating from intriguing invented instruments.
The evening began with a lovely tea service set up in the home's candle lit atrium.  Tea from natural plants was served amidst lush plants and a backdrop of pattering rain and chanting birds in cages.  The Host, Joe Lasqo, explained that concept for the tea service was to encourage the group to mingle and get to know one another.
A little warm up number by the Host on an "enhanced" grand piano (i.e.  Attached to some instrument unknown to me), set the mood for the featured musicians.  Tim Thomson followed by sharing with us his "Space Palate"- an ingenious invented instrument that he explained, "was adapted from 3D game technology."  To play it, the musician puts his hands through various sized holes cut into a large piece of wood.  Various hand movements create music and trigger projected visual effects –clearly invented by an engineering-musician-madman! I mean that as a complete complement!   Not only was the instrument cool, but so was his philosophy.  He explained that the concept was to make an instrument that the non-musician could immediately play and create palatable music, yet the advanced musician could also use as a limitless performance tool.
After an intermission with more delicious tea, the next mind-bending duo, Music for Hard Times, began.  Tom Nunn, inventor of over 200 nifty instruments from ordinary objects, was joined by Paul Winstanley, a recent transplant from NZ, who sticks various objects through the strings  of his base guitar and then plays it in a most unusual manner.   The duo's project Music for Hard Times donates all the money they raise from concerts to various causes –for this show, it was the Occupy Wall Street Movement.
Not only were the shows great, but talk about an interesting group of people in attendance!  You can find information about upcoming shows at www.joelasqo.com/blog/ and email Joe Lasqo at joe@joelasqo.com if you are interested in attending.